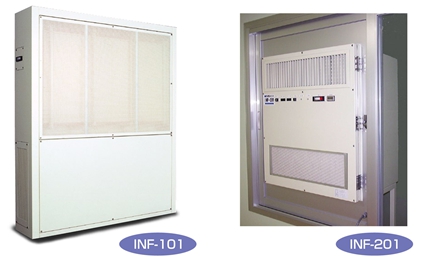 This product is for domestic sales only.
Infection Control Unit: Overview
Negative pressure room is indispensable for prevention of airborne infection (infection of droplet nuclei) including tuberculosis.
Temporary isolation ward can be constructed with the infection control unit and minor exhaust air work.
Major items related to requirements of hospital rooms
| | |
| --- | --- |
| | Air in the infected patientsf rooms should not flow out and enter the other part of the hospital. |
| | HEPA filter must be used and proper intervals of ventilation must be observed. |
| | Control with negative pressure is desirable. |

DAI-DAN has developed a unique Infection Control Unit (INF),
which makes it possible to provide negative-pressure and clean-air hospital rooms.
Floor-mounted Infection Control Unit INF-101
(incorporating exhaust fan and exhaust HEPA filter)

Through the use of enzyme sterilization type HEPA filters, arrested germs and viruses become extinct.
* No ultraviolet sterilization lights are adopted as standard specification because these lights may adversely affect human bodies and the performance may vary with the irradiation time and range.
Window-mounted Infection Control Unit INF-201